History of Aurora
The land now included within the approximately one square mile of the Aurora Village limits has been inhabited for a long time - a fact recently confirmed by the discovery of a pre-historic fire pit along the lakeshore.   In more recent times it was the site of a substantial village of Cayugas, whose alliance with the British resulted in the destruction of their settlement during the Sullivan Campaign in the Revolutionary War.  As part of Central New York's Military Tract the land was resettled, primarily by soldiers and their families from Pennsylvania and New England, in 1789. Known first as Scipio, the village was named Aurora in 1795 and incorporated under that name in 1837. It was the first county seat, site of the first county court, and a bustling transport site for wool, grain, fruit, and pigs from the village and environs to the Erie Canal canal. The local rail line built in 1874 brought in coal and shipped out buckwheat and lumber. Cayuga Academy (later Cayuga Lake Academy) was founded in 1799 and Wells College in 1868. Beginning in 1973, for our nation's Bicentennial, Aurora residents worked hard to achieve national recognition for the Village and its history. In 1976 the entire village was placed on the National Register of Historic Places, and several buildings were given national landmark status.  This page reflects the village's ongoing commitment not only to preserve the past but to understand it.
The Aurora Historical Society and Village History Center
The Aurora Historical Society is located behind the Aurora Arts and Design Center, 371 Main St., on the courtyard with Vintage Lighting; it is fully accessible by the walkway along the white wooden fence.
Currently on display: AURORA INK! The Printers of Aurora 1805-2018
Next Tuesday, September 18th, from 7:00-8:30 p.m., Rich Kegler, Director of the Wells Book Arts Center, will be on hand to discuss some of his letterpress printing techniques and inspirations with a show-and-tell of artwork and (as he modestly describes it) scraps of paper.
Kegler is the founder of P22 type foundry and the Western New York Book Arts Center in Buffalo, New York. As a trustee for the American Printing History Association, Kegler's forays into contemporary book arts and the history of fine press and printing have been far reaching.​
Refreshments will be served.
Robert LoMascolo will return to the Aurora Historical Society to speak briefly about bookbinding on Thursday September 20th at 7pm. Although few printers traditionally did their own bookbinding, the two crafts have long depended on one another. Robert, who also teaches bookbinding at Wells College, will bring a few examples to show how books were traditionally held together under the cover. Repair and care of old books will also be discussed, and attendees are welcome to bring their own old books that they may have questions about or would just like to share.
The final day of Aurora Ink! will be Tuesday, September 25th, so if you haven't yet seen the show, be sure to stop by this Tuesday or Thursday, Saturday, or next Tuesday!
Can't make any of those times? Call a Docent! 315-246-1130
NEW SUMMER HOURS AT THE AURORA HISTORICAL SOCIETY/VILLAGE HISTORY CENTER
Tuesday evenings, 7:00 to 8:30 p.m.:
Printers and Poets
Open to all!
Saturday: 11:00 a.m. to 1:00 p.m.
At your convenience: to reach a Docent-on-Call, call/text to (315)-246-1130.
371 Main St., on the courtyard with Vintage Lighting; Fully accessible and air-conditioned.
Timber framing, eighteenth century art, recovering lost history: it's all there in a fascinating and moving video from Trillium Studios called "Raise the Roof." No, it's not "local" in one sense: the movie tells the story of a ten-year project to rebuild just one of the 200 Polish synagogues destroyed by the Nazis. But Aurora and Ledyard have long had cosmopolitan connections, what it takes to restore a building that was originally made entirely with hand tools is certainly relevant to us, and an air-conditioned matinée is most welcome in the early summer heat. Want to watch a trailer? Try this link: https://m.youtube.com/watch?v=HlOWTA3ix50​
Village Historian
At their September 2012 board meeting,  the Village Board appointed Dr. Linda Schwab as the Village Historian.   She can be contacted through the Village Office or through the Village Clerk (315-364-7293).   Click on a link below to view her projects.
To get on the Aurora Historical Society mailing list, please contact

lschwab@wells.edu

(Linda Schwab, Secretary). The AHS usually meets the first Monday of the month; watch for posters of special events or contact the Secretary, as above.
A congenial atmosphere-1
chicken and cake
Hands that built Aurora
Pop Up Museum

Parker, Morgan and Grand Order
A Sampler from Sheila Edmunds
By Sheila Edmunds, Former Village Historian
 Taylor House
Set on ample property and clearly intended to be visible from the lake, Taylor House, as it is now known, was built around 1838 for Henry Morgan (1810-1886), third of the six Morgan brothers who shaped much of Aurora's history and appearance. It was frequently the site of village events, like Fourth of July celebrations. In 1877-78 Henry had the imposing Greek Revival mansion enlarged by the addition of a lofty dining room on the south side, designed by Russell Sturgis, a prominent NYC architect; the construction was directed by Samuel D. Mandell of Aurora. Henry's home, inherited by his daughter, Kate Morgan Brookfield, was eventually sold to Anna R. Goldsmith, who used it, and a new building on the north called Walcourt, for a women's prep school. After her death, Miss Goldsmith's stepson, Myron C. Taylor, presented the property to the Wells College Alumnae Association; since 1936 it had been the official residence of the college's president [until the property was sold to Pleasant Rowland in 2014.] In 1998 it was designated a Village Landmark.
Cayuga Lake National Bank, Aurora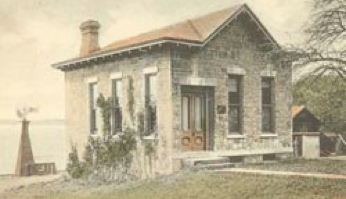 "The Bank" stands to the north of the Aurora Inn. It was built about 1840 with limestone from Union Springs, by a mason, Solomon Myers, as a home for himself, his wife and family. The design may have come from a Dowling pattern book. About 1850 the Myerses moved north to Union Springs, and their old home was acquired for a tenant house by Henry Morgan, whose home, now called Taylor House, was directly across the street. In 1864 Henry Morgan sold the building to a consortium of local business men who were organizing the "First National Bank of Aurora,"  now the Cayuga Lake National Bank. The foundations were strengthened, flagstone was brought in to floor the basement, and the roof was changed, giving the building an Italianate appearance. In 1994, an admiring architectural historian, Jonathan Hale,  said of  the Aurora bank, "You feel pleased to be near such a building.. . . "  In 1998 the Bank was designated a Village Landmark.
Abbott House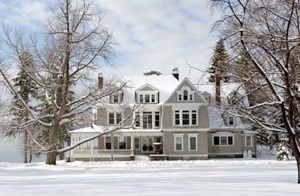 Aurora's most romantically conceived house is a palatial lakeside Queen Anne mansion towards the northern end of the village.It was built for Alonzo Morgan Zabriskie (1867-1913), eldest son of Louise Morgan and N. Lansing Zabriskie, in 1902, the year Alonzo married. His bride was the St. Louis socialite Belle Loader.The new construction was located near the site of the "Old Homestead" his grandfather, E. B. Morgan, built about 70 years before, and was said to contain some of its bricks, probably for sentimental reasons. According to a local contractor, Alonzo's house was "planned by the owner." Whether or not a professional architect was also involved (and the scope of the plan makes this seem likely), it was designed on a very grand scale; it is said to have some 40 rooms, including a ballroom. The "Zabriskie house" remained in the family until 1949. It has commonly been called the Abbott House, after Dave Abbott, the man who owned it from 1967 to 2000, [until the name was changed to Rowland house in 2014 when it became part of the Inns of Aurora, owned by Pleasant Rowland.]
Aurora Then and Now
In 2011, the local history class at Southern Cayuga High School, taught by Barbara Casper, spent a term researching historic buildings in the village that are significant for their architectural features, their ownership, their usage, or the changes that have befallen them.  In the process the students consulted a number of archives and local residents, gaining an appreciation for historical research and for the public and private interest that has allowed the village to maintain its historic character.  We applaud their hard work, diligence, and enthusiasm.
1 Paines Creek