Welcome to Aurora, New York
Village of Aurora - 456 Main St Aurora, NY 13026
New Village Post Office Hours listed on the Municipal Services page.
Upcoming Meetings - Open to the public 
Voice your opinion.  All meetings are held at the Aurora Firehouse Meeting Room, 456 Main St., unless otherwise noted.
Community Preservation Panel meeting November 5, 2014 at 7:00 pm
Halloween Happenings



The students of Mandell House, 316 Main Street, would like to welcome the community to stop at our home while trick or treating. In keeping with our mission around sustainable community building and social justice we will be serving apples and homemade cookies. We will include a list of ingredients so that parents can decide whether to include this stop. Everyone is welcome!
Dead Celebrity Party Halloween night in the firehouse meeting room at 8:00 pm.  Open Invitation, snacks provided, BYOB.
From the AuroraFest Committee
The committee will once again be selling wreaths for Christmas in Aurora.  They will be mixed greens in two sizes: 22" and 26" and the cost is $30.00 and $42.00, respectfully.  We are currently taking orders and quantities are limited so first come, first serve.  Contact Jeff Blum at 364-5438.
The October 2014 newsletter is now available on the Newsletters page.

HIKING TRAILS AT LONG POINT STATE PARK
The new hiking trails at Long Point, spearheaded by John Reilly, were dedicated on October 5, 2014 at a ceremony at Pumpkin Hill.  Assemblyman Gary Finch, County Treasurer Jim Orman, and Village Mayor Bonnie Bennett were in attendance to officially acknowledge Mr. Reilly's hard work.  Click below for Mayor Bennett's remarks.
Long Point Trails Dedication Statement
Meet with your County Legislator, Keith Batman
SATURDAY, October 25, 10 AM Ledyard Town Offices
THURSDAY, October 30, 6:30 PM Scipio Town Offices
THURSDAY, November 6, 2 PM Springport Town Offices
I will be available to talk about the County budget, local issues, or concerns. No appointment is needed. Just join me…and of course you can come to any of the sessions regardless of where you live.
If none of these work for you, let me know by calling 294 - 8070 or emailing me at kbatman@cayugacounty.us
Cayuga County Recycling Dates
Recycling dates (updated Oct. 15th)
Message from the Cayuga County Health Department
For Immediate Release: Wednesday, October 8, 2014
Contact: Eileen O'Connor, P.E.
Director of Environmental Health
Phone (315) 253-1405
Fax: (315)-253-1478
Countywide Forum on Manure Runoff in our Watersheds
A community discussion on manure and manure runoff in County watersheds will be held
on Wednesday, October 29 from 6 to 8 PM at the Cayuga Onondaga BOCES, 1879 West
Genesee St. Rd. Auburn NY. The forum was prompted by a number of manure runoff
incidents that occurred this past winter in Cayuga County and across the State.
The event is being organized by Cayuga County Legislators Keith Batman and Michael
Didio, with input from Cayuga County Director of Environmental Health Eileen
O'Connor, Soil and Water Conservation District Director Doug Kierst, Cornell
Cooperative Extension Agricultural Educator Judy Wright, and Niles Town Supervisor
Charlie Green.
The discussion will be moderated by BOCES Personnel Relations Director Randy Ray.
The public will be able to comment on a possible local law or resolution to limit the
spread of manure on frozen ground and the establishment of a buffer for manure
application near ditches and waterways. County residents who wish to voice their
concerns will be given three minutes to speak with an option for additional comments
after all are heard. According to organizers, "The hope is that by opening up dialogue on
this critical issue, we can come to better understand all sides and begin to move toward a
solution that is workable for the community."
While manure handling and spreading is regulated by the NYS Department of
Environmental Conservation and the NYS Department of Agriculture and Markets,
organizers stress the importance of local input and opinion. "Those of us who share the
water, the land, and a community need to talk among ourselves and not leave
preservation of our water resources and our economic well-being to Albany."
If you would like to pre-register to speak at the forum, or have any questions, please email your name and address to Keith Batman at kbatman@cayugacounty.us
Hydrilla Alert!
(From Cayuga Lake Watershed network)
Hydrilla is an aggressively invasive aquatic weed that spreads readily to produce choking green mats across wider expanses.  In mid-August 20011, Hydrilla verticillata was found infesting 166 acres in the Cayuga Inlet, which drains to Cayuga Lake's southern end in Ithaca.  Please click the link below for more information on identifying Hydrilla.
Fitness Trail
  Click the link below for the Design Connect plan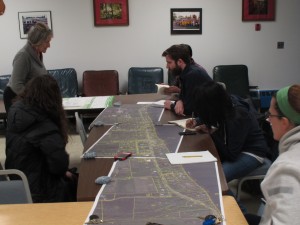 --------------------------------------------------------------------------------------------------------------------------