Welcome to Aurora, New York
Village of Aurora - 456 Main St Aurora, NY 13026
Phone: 315-364-7293  Fax: 315-364-6857  Email: villageclerk@auroranewyork.us
Read the current Newsletter on the Newsletters page
(Revised date for leaf pick-up: April 30)
SATURDAY MAY 5, 2018 IS I LOVE MY PARK DAY. PLEASE JOIN YOUR FRIENDS AND NEIGHBORS AND HELP CLEAN UP

LONG POINT STATE PARK .
 UPCOMING MEETINGS
All meetings are open to the public.  As always, anyone may speak, ask questions or offer comments at the start of the meeting (during"Visitor Welcome"). If your issue is addressed to the Board of Trustees and requires board preparation and action (vote), please submit it in writing to the village office seven days prior to the meeting so that it will appear on the agenda. Agendas are posted on the website and in both village bulletin boards located at the post office and the village office; an accurate agenda lets your neighbors know what will be discussed.
Applications that require Community Preservation Panel/Planning Board review have to be in at least ten days prior for code/zoning consideration.  All meetings are held on Wednesdays at the Aurora Firehouse Meeting Room, 456 Main St., unless otherwise noted.  To view minutes from previous meetings, navigate to the Boards page.
1st Wednesday - Community Preservation Panel (CPP)
2nd Wednesday - Zoning Board of Appeals (as needed)
3rd Wednesday - Board of Trustees
4th Wednesday - Planning Board
Planning Board meeting on April 25, 2018 at 7:00 pm
Village Office Hours
Beginning April 12, the Code Enforcement Officer's Thursday Hours are 2:00-4:00 pm
Note that the village office is closed Monday April 23, 2018 for staff training
Monday:  4:00 pm-6:00 pm (Clerk and Code Enforcement Officer)
Tuesday:  10:00 am-2:00 pm (Clerk)
Wednesday:  No public hours
Thursday:  9:00 am-1:00 pm (Treasurer)
                       11:00 am-5:00 pm (Clerk)
                        2:00 pm-4:00 pm (Code Enforcement Officer) Revised April 12, 2018
Friday:  No public hours
WATER NEWS
(Posted July 2017)
February 10, 2018 Water Presentation
Please copy the link below into your browser
https://ghd.2big4email.com/en/downloadfiles.aspx?param=bHU7nmM9wVErJLGEWigvkgeQuAleQuAl
Cayuga Lake Watershed Network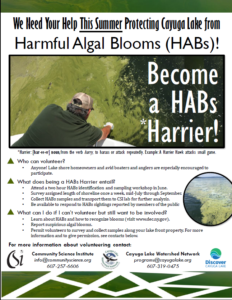 Streaming Presentations
https://livestream.com/hvccstreaming/HABsSummits#_blank
http://www.cayugalake.org/fall-2017-south-end-conference.html
HYDRILLA INFORMATION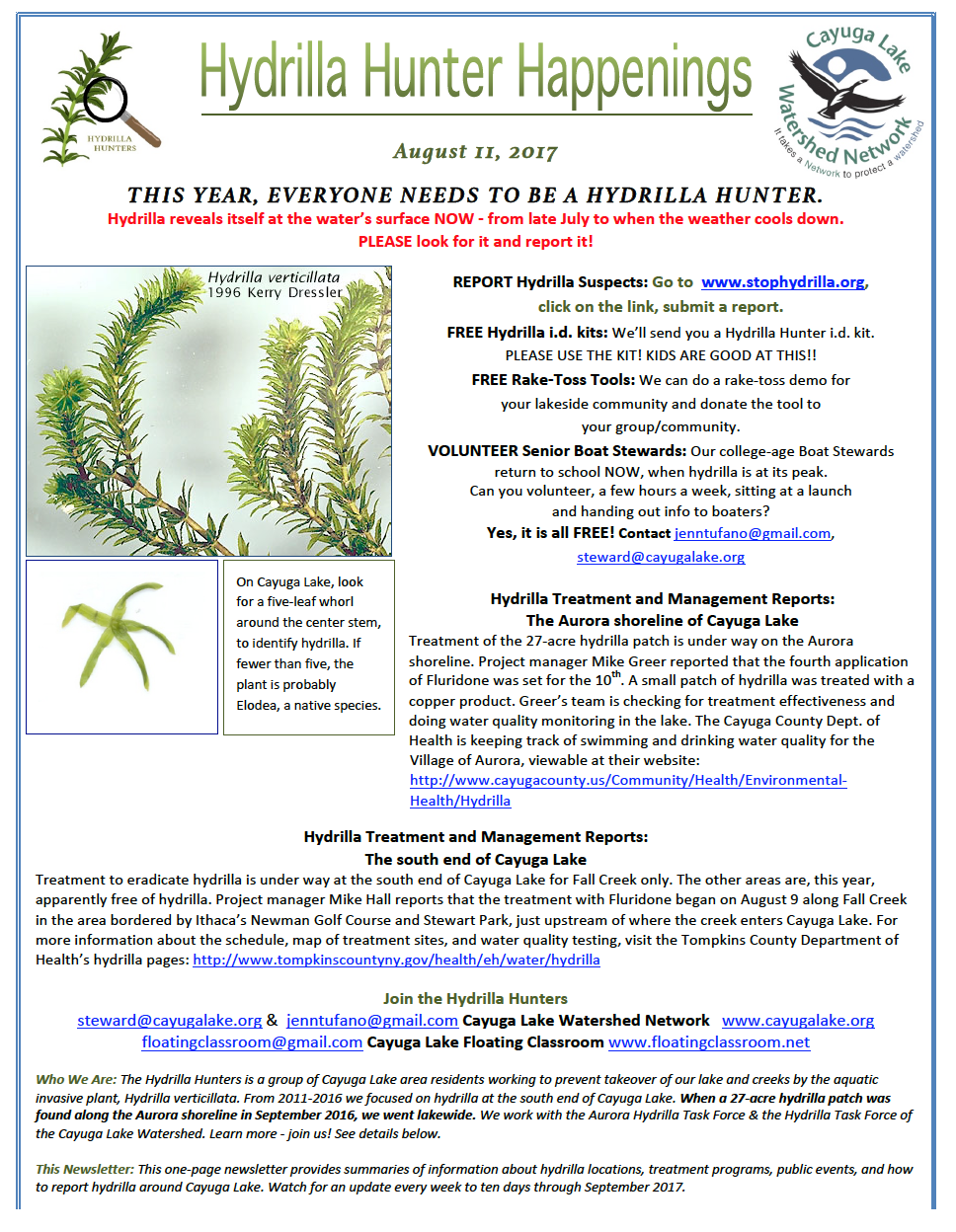 Army Corps Hydrilla Herbicide Information -PLEASE READ!
Hydrilla Public Information Meeting July 13 in Aurora
Corps of Engineers to reduce invasive Hydrilla plants in Cayuga Lake area
Cayuga County Department of Health
General Information for Public Communication
Wells College News
Link below to Wells calendar:
https://global.wells.edu/ICS/Welcome.jnz?portlet=Campus_Events&screen=MainView&screenType=change
Wells College Announces Winner of 2018 Chapbook Contest
Wells College Theatre and Dance Department Presents Collabodances
Ghost Fishing: An Eco-Justice Poetry Anthology
Wells College Association of Alumnae and Alumni Announce 2018 WCA Awards
Cayuga County Soil and Water Conservation
Electronic Recycling Event Flyer 2018-1
Bird & Bat House Press Release
Rt 81 Information
The issue of the reconstruction of I-81 through the city of Syracuse is extremely important for the Village.  All of you are aware of the truck traffic through Aurora and the broken pipes, congestion, noise and safety issues that it causes.  The DOT is in the final stages of deciding whether to repair the elevated highway through Syracuse or to demolish it and replace it with a street-level boulevard.  The boulevard would be a regular city street, with 16 stoplights, connecting I-81 at the south of the city to I-81 at the north of the city.  The highway traffic itself would be routed east onto 481 and eventually connect again with I-81 on the north and with the Thruway.  Right now truck traffic comes through Aurora, or takes other routes to the west, instead of staying on 81, because these routes are 15 to 20 miles shorter than remaining on 81 and the Thruway to get to destinations west of Syracuse.  Taking these alternate routes from Homer to Thruway exit 42 (Geneva) is between 57 and 61 miles; taking the proposed 81 and 481 route is over 90 miles.  There is no doubt that traffic headed west from I-81 will find Aurora an attractive shortcut.  We cannot afford more long-haul trucks through our village.
---
NYSERDA AGRICULTURAL ENERGY AUDIT PROGRAM
Agriculture Energy Audit Program flyer
Agriculture Energy Audit Program Application
Emerald Ash Borer Information from Cornell Cooperative Extension
Town & Village Clerk EAB Letter
NYS -DEC Self Xport for Firewood Cert rev July 2012-1
  Cayuga County Conservation District Information
---