Welcome to Aurora, New York
Village of Aurora - 456 Main St Aurora, NY 13026
Read the current Village Newsletter on the Newsletters page
Upcoming Meetings - Open to the public 
Voice your opinion.  Items for the Board of Trustees meeting agenda should be submitted in writing to the village office seven days prior to the meeting.  Applications that require Community Preservation Panel/Planning Board review have to be in at least ten days prior for code/zoning consideration.  All meetings are held on Wednesdays at the Aurora Firehouse Meeting Room, 456 Main St., unless otherwise noted.
Planning Board meeting on August 26, 2015 at 7:00 pm.

---------------------------------------------------------------------------------------------------------------------
Final Adopted General Budget 2015-16
Final Adopted Water Budget 2015-16
Final Adopted Sewer Budget 2015-16
 Wells College News

As many of you know, the Wells mailroom [which is located in Main Building, near the back entrance] offers the full service of a normal post office. Need to send out a personal package when the U.S. Post Office is closed? Let us do it for you!
 NOW, UPS is being offered as well! Wells is a daily pick up/drop off location for UPS and whether you have a prepaid printed out label or need to arrange payment, just let me do the work! UPS often offers a more affordable service and also includes tracking numbers with shipments. UPS is a better option when time is not an issue as they are not always as quick of a service, but often is a cheaper rate. 
 Right now, the summer mailroom hours are difficult-I am the only employee in the summer months and the mailroom itself is often closed as I run around delivering/picking up mail and packages through campus. In the fall, the mailroom will be open 830-430 daily and 9-12 on Saturdays! To offer service to residents it may be more efficient to wait until 9/1, or call ahead to the number below.
Warmly,
Tracy Barnhart
Manager of Mail Services
Wells College
Are you considering putting in solar panels?  Download the above application and you may save money on your project.
Cayuga Lake Watershed Information
Hydrilla Hunters Happenings July August 2015
Can You Canoe Cayuga information
Public Health Information
Fitness Trail
The beginning stages of an Aurora fitness trail is underway! Using the sidewalks, pocket parks, and the village park behind the Inn, you will soon be able to get a great workout of your own design right in the village.  With the help of Certified Personal Trainer Chris Brozon of Barn Warriors Cross Fit, we are designing workouts at each park in the village.  There is a station for cardio, upper body, core and legs as well as half mile marks on the sidewalks to know how far you are jogging, running, or walking.  Look for a kick-off event in the early fall!
  Click the link below for the Design Connect plan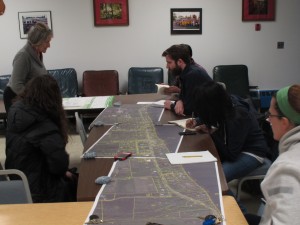 --------------------------------------------------------------------------------------------------------------------------