Welcome to Aurora, New York
Village of Aurora - 456 Main St Aurora, NY 13026 
Phone: 315-364-7293  Fax: 315-364-6857  Email: villageclerk@auroranewyork.us
----------------------------------------------------------------------------------------------------------
FROM CAYUGA COUNTY DEPARTMENT OF HEALTH
The County Health Department is recommending that residents register for "Cayuga Alerts" for information on Harmful Algal Blooms
You must register your cell phone with Hyper-Reach if you want to be contacted by the Cayuga County 911 Center in the event of emergencies in your area, including those related to your public water supply.
Be prepared. Text "Cayuga Alerts" to (828) 201-3877 or use the link below to register today!
https://secure.hyper-reach.com/comsignup.jsp?id=12642
VILLAGE OF AURORA 2018 WATER QUALITY REPORT (Posted May 30, 2019)
Cayuga County Water & Sewer Authority Master Plan
https://wsamasterplan.com/
UPCOMING MEETINGS
All meetings are open to the public.  As always, anyone may speak, ask questions or offer comments at the start of the meeting (during"Visitor Welcome"). If your issue is addressed to the Board of Trustees and requires board preparation and action (vote), please submit it in writing to the village office seven days prior to the meeting so that it will appear on the agenda. Agendas are posted on the website and in both village bulletin boards located at the post office and the village office; an accurate agenda lets your neighbors know what will be discussed.
Applications that require Community Preservation Panel/Planning Board review have to be in at least ten days prior for code/zoning consideration.  All meetings are held on Wednesdays at the Aurora Firehouse Meeting Room, 456 Main St., unless otherwise noted.  To view minutes from previous meetings, navigate to the Boards page.
1st Wednesday - Community Preservation Panel (CPP)
2nd Wednesday - Zoning Board of Appeals (as needed)
3rd Wednesday - Board of Trustees
4th Wednesday - Planning Board
Board of Trustees Meeting June 19, 2019 at 7:00 p.m.
2019/2020 Adopted Budgets
Village Office Hours
Monday:  4:00 pm-6:00 pm (Clerk and Code Enforcement Officer)
Tuesday:  10:00 am-2:00 pm (Clerk)
Wednesday:  No public hours
Thursday:  9:00 am-1:00 pm (Treasurer)
                       11:00 am-5:00 pm (Clerk)
                        2:00 pm-4:00 pm (Code Enforcement Officer)
Friday:  No public hours
AURORA HISTORY CENTER
Opening Soon: New Show at Aurora Historical Society
A hundred years ago, a downtown fire forever changed Aurora. Later the same year the Aurora Volunteer Fire Department as we know it today was organized. The Aurora Historical Society, 371 Main St., will mark this double centennial with a new exhibit, "Fire! A Century of Service: The Aurora Volunteer Fire Department," opening Tuesday, April 9th, and running through June.
Tuesday, June 18, at 7:00 p.m. we're presenting the Chief's Round Table: Conversations with Fire Department Leaders. Learn about the awesome responsibility that the Fire Chief shoulders on emergency scenes and within the department.
See the AHS Facebook page for more about the Grand Opening and upcoming events, which will include lively conversations and oral histories.
The Aurora Historical Society/Village History Center is located on the rear courtyard, next to Vintage Lighting, and accessible to all, and events are always free.
​THE AURORA HISTORICAL SOCIETY/VILLAGE HISTORY CENTER SPRING/SUMMER HOURS:
Tuesday evenings, 7:00 p.m. to 8:30 p.m.
Saturday: 11:00 a.m. to 1:00 p.m.
At your convenience: to reach a Docent-on-Call, call/text to (315)-246-1130.
371 Main St., on the courtyard with Vintage Lighting; Fully accessible
Cayuga County Soil and Water Conservation
Spring Electronics Flyer 2019_final
FLOOD SAFETY AWARENESS
As we saw with the major floods and flash floods last year, many people lost their lives in the United States despite warnings being issued. It is imperative that our citizens are prepared due to our long history of flooding.
As an emergency management or safety professional, people rely on you to make sure they are prepared, receive warnings, and know what to do. Your mission is the same as ours: to protect life and property. We could not do our jobs effectively without the strong partnership that we have built through the years. We are asking you to highlight flood safety for your citizens, staff and others. We have a website devoted to flood safety awareness week that you can find 
here
 to assist you.
The following websites all have excellent information on flood safety that can use at anytime to highlight flood safety and preparedness.
https://www.weather.gov/safety/flood
https://www.weather.gov/wrn/spring2019-flood-sm
http://www.redcross.org/get-help/prepare-for-emergencies/types-of-emergencies/flood
If you have any questions, feel free to contact me.
Thanks,
Dave
 David J. Nicosia
Warning Coordination Meteorologist
NOAA-National Weather Service Binghamton NY
607-770-9531 x 223 Cell 607-206-4748
Become a WeatherReady Nation Ambassador
Become a fan: https://www.facebook.com/NWSBinghamton
Follow us on Twitter: https://twitter.com/NWSBinghamton
Visit our website at: http://weather.gov/bgm
WATER NEWS
Cayuga County Water & Sewer Authority Master Plan:
https://wsamasterplan.com/
Cayuga County Water Quality Management Agency 2018 Year End Report
(Posted February 11, 2019)
November 8, 2018 Water Information Meeting
Preliminary Engineering Report (a copy is available for review in the village office.)
CAYUGA COUNTY WATER MANAGEMENT AGENCY
http://cayugacountywater.org/
UPDATE: https://auburnpub.com/news/local/wells-college-aurora-getting-state-aid-to-upgrade-water-filtration/article_9ee540a5-f5e5-5b3d-82b5-e648a20a077a.html
February 10, 2018 Water Presentation
Please copy the link below into your browser
https://ghd.2big4email.com/en/downloadfiles.aspx?param=bHU7nmM9wVErJLGEWigvkgeQuAleQuAl
Cayuga Lake Watershed Network
Click the link below for information on Cayuga Lake concerns presented on March 23, 2019 at the Aurora Inn
Cayuga Lake Watershed Upcoming Event in Aurora
Harmful Algal bloom Symposium: https://www.eventbrite.com/e/2018-finger-lakes-harmful-algal-blooms-habs-symposium-tickets-47718940636
July 16 update
Harmful Algal Bloom Update 3
Explaining "No bloom," "Suspicious," "Confirmed," "Confirmed with high toxins"
Over the past few weeks of active HABs on Cayuga Lake, we've gotten some questions about the testing of toxins in HABs. Our friends at the Community Science Institute provided this note about the toxin microcystin:
Cyanobacteria (blue-green algae) may produce a variety of chemicals that are harmful to other species, including humans. The most common harmful chemical found in New York algal blooms is microcystin. Detailed toxicity studies have not been performed, and there is not yet a consensus on acceptable exposure levels. The New York State Department of Health (NYSDOH) has set upper limits for public drinking water supplies at 0.3 ug/L or parts per billion (ppb) and for public swimming beaches at 4.0 ppb (EPA, 2017). The New York State Department of Environmental Conservation (NYSDEC) defines a "bloom with high toxin" as 20 ppb near the lake shore and 10 ppb in open water (NYSDEC HABs Program Guide, Section 3).
Help us fight the HABs by becoming a HABs Harrier!
The onset of beautiful warm weather has reminded us that Summer is right around the corner! This also means that the optimal time for harmful algal blooms (HABs) is fast approaching.
HABs pose a threat to Cayuga Lake. They can produce toxins that lead to sickness and even death in people and pets, and they have the potential to undermine Cayuga Lake as a source of drinking water and a desirable place to live or spend a vacation. As a HABs Harrier, you would play a key role in tracking, understanding, and ultimately managing this emerging threat in our region.
Click 
here
 for more information!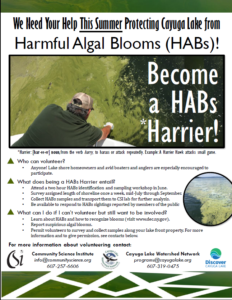 Streaming Presentations
https://livestream.com/hvccstreaming/HABsSummits#_blank
http://www.cayugalake.org/fall-2017-south-end-conference.html
HYDRILLA INFORMATION
Cayuga Lake & Hydrilla
For Immediate Release: 12 December 2018
Hydrilla in Cayuga Lake, King Ferry
In October 2018, 
Hydrilla verticillata
, a highly invasive aquatic weed, was confirmed at a private marina on Cayuga Lake, Cayuga County, near King Ferry. Hydrilla is an aggressive invader that spreads rapidly and, if left unchecked, will form a thick mat of vegetation, making swimming and boating impossible and impacting fish populations.  The effect to the local economy from loss of recreation and reduced biodiversity can be significant. The 2018 population was discovered when the Finger Lakes Institute at Hobart and William Smith Colleges (FLI) Hydrilla field crew requested access to a private marina launch to survey for Hydrilla. The owner of the marina, suspecting a population of Hydrilla, led the crew to the suspicious plants. The Hydrilla field crew took samples and calculated the infestation to be approximately 25m
2
, inside the marina docks. No additional Hydrilla was found outside of this area although further survey is warranted. The Hydrilla field crew, supported by a grant from the US Environmental Protection Agency Great Lakes Restoration Initiative, has surveyed over 96 miles of shoreline on Cayuga Lake as part of the FLI and Finger Lakes Partnership for Regional Invasive Species Management (Finger Lakes PRISM) strategy to reduce the spread and impact of high risk aquatic invasive species such as Hydrilla. "Cayuga County Water Quality Management Agency (WQMA) is saddened to hear that the Finger Lakes PRISM has found Hydrilla in another location in Cayuga Lake in Cayuga County. We thank the Finger Lakes PRISM for conducting the survey that found the Hydrilla and for taking the lead in the response to this threat to our lake." Said 
Stephen Lynch, Chairman of the Cayuga County WQMA
. Cayuga County is well-versed in the harm and impact posed by a Hydrilla infestation. In 2016, a large patch of Hydrilla was found outside of Wells College by the Cayuga Lake Floating Classroom. A Cayuga County Aurora Hydrilla Task Force was convened and funding was sought to support the management of this population from multiple funding sources. The EPA funding allowed for the broad scale survey of approximately 90 miles of shoreline on Cayuga Lake and the Cayuga-Seneca Canal.  "We are fortunate to have the Finger Lakes PRISM based at the Finger Lakes Institute so that when new infestations are discovered, there is capacity to respond quickly and keep numerous partners at the local, state, and federal level informed about the latest developments and treatment options." Said 
Lisa Cleckner, Director of the Finger Lakes Institute at Hobart and William Smith Colleges.
"The new infestation is concerning and underscores the need for everyone using the lake to take precautions to minimize the risk of spread, however, Hydrilla at this site should be manageable given the relatively small size." said 
Mike Greer, Regional Technical Specialist of the United States Army Corps of Engineers (USACE) Buffalo District
. The USACE have a long history of addressing Hydrilla in public waterways. They have managed Hydrilla infestations in Aurora and Tompkins County since 2017 and have provided technical expertise to Hydrilla projects across the state. "New York continues to work diligently with our partners and stakeholders on projects and outreach efforts to combat the spread of invasive species that threaten our state's precious natural resources," said 
DEC Acting Deputy Commissioner for Natural Resources Judy Drabicki.
 "The recent finding of Hydrilla at Don's Marina clearly demonstrates the role of watercraft in spreading aquatic invasive species. Cleaning, draining, and drying watercraft and equipment is essential to protecting the waters of New York. We will continue efforts to engage the public in taking these preventive steps while we work with stakeholders to respond to the recent discovery." The Finger Lakes Institute, Finger Lakes PRISM, USACE, and NYSDEC, in partnership with stakeholders and the owner of the marina will develop recommended strategies to manage this new infestation. The public will be able to provide comments on any proposed strategies in late spring at a public forum (date TBD). The forum will be widely advertised and open to the public. For more information regarding Hydrilla please refer to the following websites: 
www.NYIS.info
; 
www.fingerlakesinvasives.org
; 
www.ccetompkins/org
; 
www.erie.cce.cornell/edu/invasive-species/wny-hydrilla-project
For more information, contact:
Hilary R. Mosher,
Finger Lakes- Partnership for Regional Invasive Species Management Coordinator;
Finger Lakes Institute
 at 
Hobart and William Smith Colleges
300 Pulteney Street, Geneva, NY 14456 (p): 315.781.4385, (e): 
mosher@hws.edu
  (w): 
fingerlakesinvasives.org
Subscribe to our listserve: 
cce-flprism-l-request@cornell.edu
Follow us on 
Twitter
 * 
Facebook !
Together we can #stoptheinvasion! Hilary Lambert Steward/Executive Director Cayuga Lake Watershed Network POB 348 Aurora NY 13026 "It takes a Network to protect a watershed!"
steward@cayugalake.org
www.cayugalake.org
Army Corps Hydrilla Herbicide Information -PLEASE READ!
Hydrilla Public Information Meeting July 13 in Aurora
Corps of Engineers to reduce invasive Hydrilla plants in Cayuga Lake area
Cayuga County Department of Health
General Information for Public Communication
Wells College News
Link below to Wells calendar:
https://global.wells.edu/ICS/Welcome.jnz?portlet=Campus_Events&screen=MainView&screenType=change
---
NYSERDA AGRICULTURAL ENERGY AUDIT PROGRAM
Agriculture Energy Audit Program flyer
Agriculture Energy Audit Program Application
Emerald Ash Borer Information from Cornell Cooperative Extension
Town & Village Clerk EAB Letter
NYS -DEC Self Xport for Firewood Cert rev July 2012-1
  Cayuga County Conservation District Information
---