Welcome to Aurora, New York
Village of Aurora - 456 Main St Aurora, NY 13026 
Phone: 315-364-7293  Fax: 315-364-6857  Email: villageclerk@auroranewyork.us
AS OF JULY 9, 2019, THE WELLS COLLEGE DOCK IS CLOSED UNTIL FURTHER NOTICE DUE TO AN ALGAE BLOOM.
JULY 15 UPDATE: ALGAE BLOOMS ARE STILL DETECTED AT THE DOCK AND NEARBY AREAS. PLEASE STAY OUT OF THE WATER PER CAYUGA COUNTY DEPARTMENT OF HEALTH 
RECOMMENDATIONS. IF YOU SEE AN ALGAE BLOOM, PLEASE REPORT IT TO THE CAYUGA COUNTY DEPARTMENT OF HEALTH AT (315) 253-1560
----------------------------------------------------------------------------------------------------------
FROM CAYUGA COUNTY DEPARTMENT OF HEALTH
The County Health Department is recommending that residents register for "Cayuga Alerts" for information on Harmful Algal Blooms
You must register your cell phone with Hyper-Reach if you want to be contacted by the Cayuga County 911 Center in the event of emergencies in your area, including those related to your public water supply.
Be prepared. Text "Cayuga Alerts" to (828) 201-3877 or use the link below to register today!
https://secure.hyper-reach.com/comsignup.jsp?id=12642
CAYUGA COUNTY HEALTH DEPARTMENT SURVEY
Auburn Community Hospital and the Cayuga County Health Department are asking for your input to help us learn how our community uses healthcare services, and to find out how we can help improve the health of those in our area. We would like to hear your story and learn about what is most important to you. The survey should take seven to ten minutes to complete. The survey is anonymous. Please select the link to complete the survey http://www.rmsresults.com/Cayuga We encourage you to share the survey link with family, friends, and co-workers who live in the Cayuga County area!
VILLAGE OF AURORA 2018 WATER QUALITY REPORT (Posted May 30, 2019)
Cayuga County Water & Sewer Authority Master Plan
https://wsamasterplan.com/
UPCOMING MEETINGS
All meetings are open to the public.  As always, anyone may speak, ask questions or offer comments at the start of the meeting (during"Visitor Welcome"). If your issue is addressed to the Board of Trustees and requires board preparation and action (vote), please submit it in writing to the village office seven days prior to the meeting so that it will appear on the agenda. Agendas are posted on the website and in both village bulletin boards located at the post office and the village office; an accurate agenda lets your neighbors know what will be discussed.
Applications that require Community Preservation Panel/Planning Board review have to be in at least ten days prior for code/zoning consideration.  All meetings are held on Wednesdays at the Aurora Firehouse Meeting Room, 456 Main St., unless otherwise noted.  To view minutes from previous meetings, navigate to the Boards page.
1st Wednesday - Community Preservation Panel (CPP)
2nd Wednesday - Zoning Board of Appeals (as needed)
3rd Wednesday - Board of Trustees
4th Wednesday - Planning Board
Board of Trustees meeting on July 17, 2019 at 7:00 p.m.
The July 24, 2019 Planning Board meeting is cancelled due to a lack of a quorum and is rescheduled for Tuesday, August 13, 2019 at 6:30 p.m.
The August 7, 2019 CPP meeting is cancelled due to a lack of a quorum.
2019/2020 Adopted Budgets
Village Office Hours
Monday:  4:00 pm-6:00 pm (Clerk and Code Enforcement Officer)
Tuesday:  10:00 am-2:00 pm (Clerk)
Wednesday:  No public hours
Thursday:  9:00 am-1:00 pm (Treasurer)
                       11:00 am-5:00 pm (Clerk)
                        2:00 pm-4:00 pm (Code Enforcement Officer)
Friday:  No public hours
AURORA HISTORY CENTER
Opening Soon: Water/Ways
The Smithsonian's "Water/Ways" Comes to Aurora
This summer, the magic of the Smithsonian is coming to Aurora. The Louis Jefferson Long Library at Wells College, the Aurora Masonic Center, and the Aurora Historical Society are partnering to bring Water/Ways to the area for six weeks, from August 17th through September 29th, 2019.
Water/Ways, part of the Smithsonian's Museum on Main Street program, is the first such exhibit to come to New York, and this year will travel to six different sites in the state and seven more around the nation. Aurora will be the second of these sites.
The Water/Ways traveling exhibit focuses on cultural, environmental, and historical roles of water. It will be located in the Long Library at Wells College, and will be open to the public during the library's open hours. Over the same six weeks, the Aurora Historical Society will host events associated with its related display, "How Cayuga Lake Shaped Aurora: Legends and Lore," and the Aurora Masonic Center will celebrate the bicentennial of Scipio Lodge with a grand ceremonial and related history tours.
Best of all, the fun starts soon: the annual Blessing of the Boats, this year held Friday, July 5th, will be the local kick-off event. Come to the lakeside lawn of St. Patrick's Church, Aurora, starting around 4:30 p.m. for the Blessing (5:30 p.m.), the dedication of the AVFD dock, a community dinner with band, and to hear more about the fun to come. Bring along your lake stories to share (which will become part of the Smithsonian's archive) and take a few minutes to help to color the Cayuga Lake Monster.
See the AHS Facebook page for more information on upcoming events.
The Aurora Historical Society/Village History Center is located on the rear courtyard, next to Vintage Lighting, and accessible to all, and events are always free.
​THE AURORA HISTORICAL SOCIETY/VILLAGE HISTORY CENTER SPRING/SUMMER HOURS:
Tuesday evenings, 7:00 p.m. to 8:30 p.m.
Saturday: 11:00 a.m. to 1:00 p.m.
At your convenience: to reach a Docent-on-Call, call/text to (315)-246-1130.
371 Main St., on the courtyard with Vintage Lighting; Fully accessible
Cayuga County Soil and Water Conservation
FLOOD SAFETY AWARENESS
As we saw with the major floods and flash floods last year, many people lost their lives in the United States despite warnings being issued. It is imperative that our citizens are prepared due to our long history of flooding.
As an emergency management or safety professional, people rely on you to make sure they are prepared, receive warnings, and know what to do. Your mission is the same as ours: to protect life and property. We could not do our jobs effectively without the strong partnership that we have built through the years. We are asking you to highlight flood safety for your citizens, staff and others. We have a website devoted to flood safety awareness week that you can find 
here
 to assist you.
The following websites all have excellent information on flood safety that can use at anytime to highlight flood safety and preparedness.
https://www.weather.gov/safety/flood
https://www.weather.gov/wrn/spring2019-flood-sm
http://www.redcross.org/get-help/prepare-for-emergencies/types-of-emergencies/flood
If you have any questions, feel free to contact me.
Thanks,
Dave
 David J. Nicosia
Warning Coordination Meteorologist
NOAA-National Weather Service Binghamton NY
607-770-9531 x 223 Cell 607-206-4748
Become a WeatherReady Nation Ambassador
Become a fan: https://www.facebook.com/NWSBinghamton
Follow us on Twitter: https://twitter.com/NWSBinghamton
Visit our website at: http://weather.gov/bgm
WATER NEWS
Cayuga County Water & Sewer Authority Master Plan:
https://wsamasterplan.com/
Cayuga County Water Quality Management Agency 2018 Year End Report
(Posted February 11, 2019)
November 8, 2018 Water Information Meeting
Preliminary Engineering Report (a copy is available for review in the village office.)
CAYUGA COUNTY WATER MANAGEMENT AGENCY
http://cayugacountywater.org/
UPDATE: https://auburnpub.com/news/local/wells-college-aurora-getting-state-aid-to-upgrade-water-filtration/article_9ee540a5-f5e5-5b3d-82b5-e648a20a077a.html
February 10, 2018 Water Presentation
Please copy the link below into your browser
https://ghd.2big4email.com/en/downloadfiles.aspx?param=bHU7nmM9wVErJLGEWigvkgeQuAleQuAl
Cayuga Lake Watershed Network
Explaining "No bloom," "Suspicious," "Confirmed," "Confirmed with high toxins"
Over the past few weeks of active HABs on Cayuga Lake, we've gotten some questions about the testing of toxins in HABs. Our friends at the Community Science Institute provided this note about the toxin microcystin:
Cyanobacteria (blue-green algae) may produce a variety of chemicals that are harmful to other species, including humans. The most common harmful chemical found in New York algal blooms is microcystin. Detailed toxicity studies have not been performed, and there is not yet a consensus on acceptable exposure levels. The New York State Department of Health (NYSDOH) has set upper limits for public drinking water supplies at 0.3 ug/L or parts per billion (ppb) and for public swimming beaches at 4.0 ppb (EPA, 2017). The New York State Department of Environmental Conservation (NYSDEC) defines a "bloom with high toxin" as 20 ppb near the lake shore and 10 ppb in open water (NYSDEC HABs Program Guide, Section 3).
Help us fight the HABs by becoming a HABs Harrier!
The onset of beautiful warm weather has reminded us that Summer is right around the corner! This also means that the optimal time for harmful algal blooms (HABs) is fast approaching.
HABs pose a threat to Cayuga Lake. They can produce toxins that lead to sickness and even death in people and pets, and they have the potential to undermine Cayuga Lake as a source of drinking water and a desirable place to live or spend a vacation. As a HABs Harrier, you would play a key role in tracking, understanding, and ultimately managing this emerging threat in our region.
Click 
here
 for more information!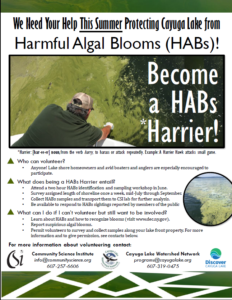 Streaming Presentations
https://livestream.com/hvccstreaming/HABsSummits#_blank
http://www.cayugalake.org/fall-2017-south-end-conference.html
HYDRILLA INFORMATION
Cayuga Lake & Hydrilla
Treatment of Hydrilla by the Army Corps of Engineers will take place on Thursdays on the following weeks (subject to change):
July 1
July 8
July 15
July 22
July 29
Please click on the link below for more information:
Cayuga County Department of Health
General Information for Public Communication
Wells College News
Link below to Wells calendar:
https://global.wells.edu/ICS/Welcome.jnz?portlet=Campus_Events&screen=MainView&screenType=change
---
NYSERDA AGRICULTURAL ENERGY AUDIT PROGRAM
Agriculture Energy Audit Program flyer
Agriculture Energy Audit Program Application
Emerald Ash Borer Information from Cornell Cooperative Extension
Town & Village Clerk EAB Letter
NYS -DEC Self Xport for Firewood Cert rev July 2012-1
  Cayuga County Conservation District Information
---