Welcome to Aurora, New York
Village of Aurora - 456 Main St Aurora, NY 13026
Phone: 315-364-7293  Fax: 315-364-6857  Email: villageclerk@auroranewyork.us
(Posted July 2017)
February 10, 2018 Water Presentation
Please copy the link below into your browser
https://ghd.2big4email.com/en/downloadfiles.aspx?param=bHU7nmM9wVErJLGEWigvkgeQuAleQuAl
Cayuga Lake Watershed Network
Hilary Lambert
Steward/Executive Director
Cayuga Lake Watershed Network
POB 348 Aurora NY 13026

"It takes a Network to protect a watershed!"

steward@cayugalake.org
www.cayugalake.org
For those of you who were unable to attend our Fall 2017 South End conference, or would just like a refresher on what you heard there, all three presentations are now available on our website at this link: http://www.cayugalake.org/fall-2017-south-end-conference.html
We wish you all a very safe and happy water-loving season.
Most sincerely,
Jenn
Jennifer Tufano Program Associate, Cayuga Lake Watershed Network
PO Box 348, Aurora, NY 13026
518.524.4492 (c)
Village Office Hours
Monday:  4:00 pm-6:00 pm (Clerk and Code Enforcement Officer)
Tuesday:  10:00 am-2:00 pm (Clerk)
Wednesday:  No public hours
Thursday:  9:00 am-1:00 pm (Treasurer)
                       11:00 am-5:00 pm (Clerk)
                        3:00 pm-5:00 pm (Code Enforcement Officer)
Friday:  No public hours
 UPCOMING MEETINGS
Open to the public.  Items for the Board of Trustees meeting agenda should be submitted in writing to the village office seven days prior to the meeting.  Applications that require Community Preservation Panel/Planning Board review have to be in at least ten days prior for code/zoning consideration.  All meetings are held on Wednesdays at the Aurora Firehouse Meeting Room, 456 Main St., unless otherwise noted.  To view minutes from previous meetings, navigate to the Boards page.
1st Wednesday - Community Preservation Panel (CPP)
2nd Wednesday - Zoning Board of Appeals (as needed)
3rd Wednesday - Board of Trustees
4th Wednesday - Planning Board
Planning Board meeting on February 28, 2018 - CANCELLED
HYDRILLA INFORMATION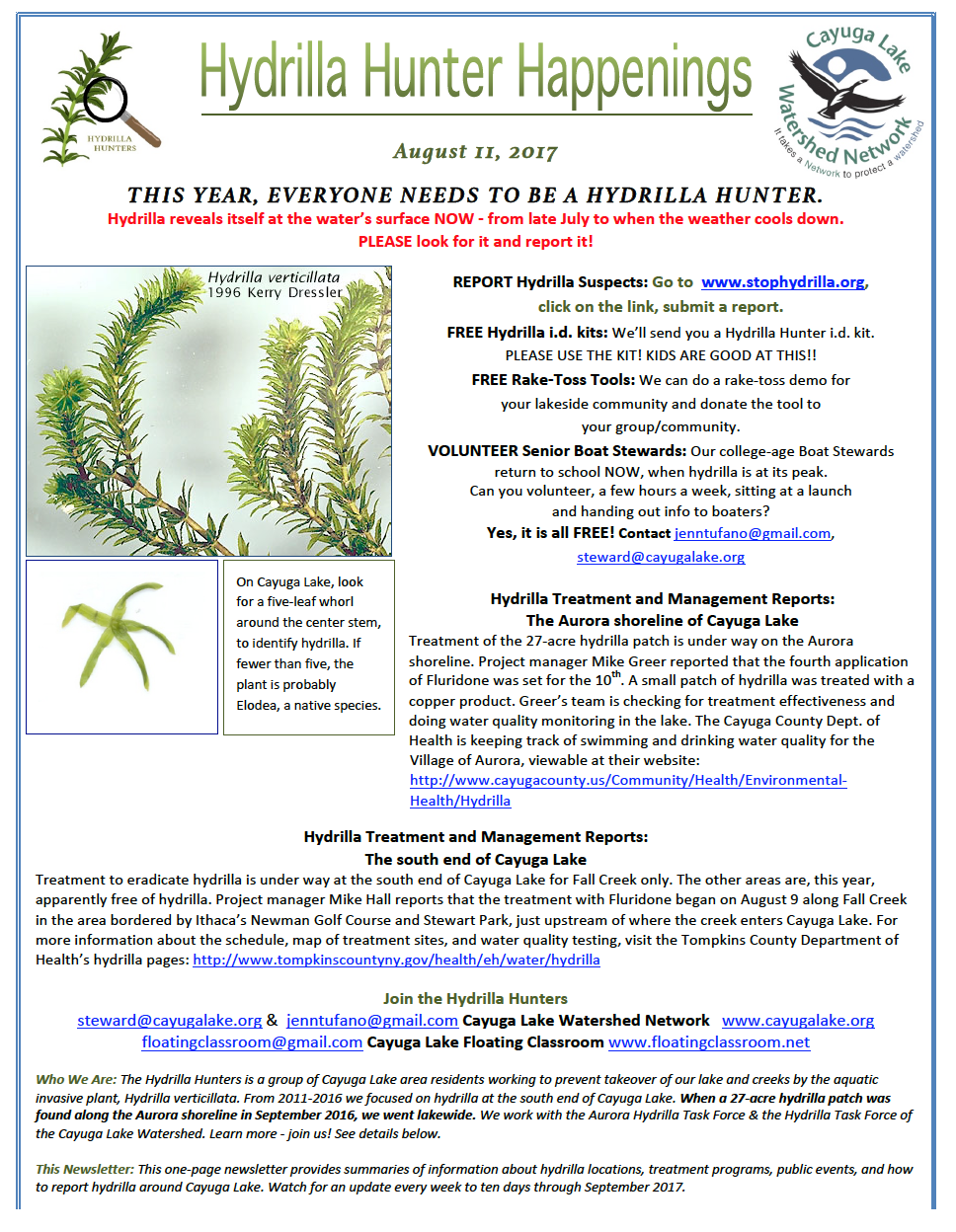 Army Corps Hydrilla Herbicide Information -PLEASE READ!
Hydrilla Public Information Meeting July 13 in Aurora
NEWS RELEASE
U.S. Army Corps of Engineers, Buffalo District
1776 Niagara Street, Buffalo, NY 14207-3199
U.S. ARMY CORPS OF ENGINEERS
Buffalo District
Building Strong®
For Immediate Release:
June 16, 2017
Contact: Dr. Michael Izard-Carroll, Public Affairs
716.879.4150 or 716.368.2060 (cell) Michael.d.izard-carroll@usace.army.mil
Corps of Engineers to reduce invasive Hydrilla plants in Cayuga Lake area
Buffalo, NY – The U.S. Army Corps of Engineers, Buffalo District will be helping to reduce the invasive Hydrilla plant (Hydrilla verticillata) in Cayuga Lake near Aurora, and in nearby Paines and Little creeks.
"The newly discovered Hydrilla infestation in Cayuga Lake sounded the alarm for federal intervention, and I'm glad with this federal funding the Army Corps of Engineers can now mobilize to answer the call," said Senator Charles Schumer. I'll continue to push to preserve any and all federal resources to stop this threat before it spreads. The Army Corps' work over the next weeks is the vital first step in containing—and eventually eradicating this devastating invasive that threatens the Finger Lakes region's job creating, ecological and economic potential."
Funding for the project is available through the Corps of Engineers Aquatic Plant Control Research Program and Great Lakes Restoration Initiative.
The Corps of Engineers will work closely with local partners including the Finger Lakes Partnership for Regional Invasive Species Management, Cayuga Lake Watershed Network, New York State Department of Environmental Conservation, and Cayuga County. Surveys of the project site to determine plant growth were conducted in late May 2017. The project will involve the application of a range of approved herbicides, with the possibility of physical removal. Herbicide treatments may begin in early to mid-July 2017 and the project will cover over 30 acres of lake bottom.
"We take pride in doing our part to help protect and restore the Great Lakes, and reducing Hydrilla will provide both an ecological and economic benefit to the area." said Lt. Col. Adam Czekanski, U.S. Army Corps of Engineers Buffalo District commander. Representatives from the Corps of Engineers plan to attend the Village of Aurora Board Meeting on June 21, 2017 to answer questions about the project. The meeting will be held in the Village Fire Department at 7:00 pm. An environmental assessment document as per the National Environmental Policy Act will soon be available for public review and comment.
"We are fortunate that the Corps of Engineers, experts in aquatic plant control and research, are able to address one of the most aggressive aquatic invaders posing a significant risk to Cayuga Lake and the Great Lakes Basin", said Hilary Mosher, Coordinator for the Finger Lakes-Partnership for Regional Invasive Species Management based at the Finger Lakes Institute at Hobart and William Smith Colleges. "The Corps of Engineers, having managed Hydrilla populations across the Northeast, can utilize established best management practices to reduce the spread and impact of this highly invasive plant."
The invasive Hydrilla has devastated a number of waterways and lakes in the Northeastern United States. The species depletes oxygen levels and crowds out native plant species that are important for fish and wildlife. The overgrowth of these plants negatively impacts other aquatic life and, if left unchecked, can also impact navigation and recreation.
ACTION REQUEST for paddlers & boaters on Cayuga Lake:
Please help locate unhealthy hemlocks along the shoreline of Cayuga Lake. Right now, healthy hemlocks are showing green growth tips at the ends of branches. Unhealthy hemlocks show little or no new growth. They can also look like the severely ill hemlock tree in this photo, taken on lakeshore property.
When paddling/boating along the shoreline, please look for unhealthy/dead hemlocks, GPS their locations, take a photo if feasible, and send to me steward@cayugalake.org - thank you!
We are assisting the NYS Hemlock Initiative in locating hemlocks infested with Hemlock Wooly Adelgid - to treat the trees and track this destructive pest. Here's more information: https://blogs.cornell.edu/nyshemlockinitiative/
Office: 607-254-1715
Cell: 315-730-5373
Fax: 607-257-7896
Email: stophydrilla@gmail.com
Visit: http://stophydrilla.org
Like Stophydrilla.org on Facebook
Cayuga County Department of Health
General Information for Public Communication
Wells College News
Link below to Wells calendar:
https://global.wells.edu/ICS/Welcome.jnz?portlet=Campus_Events&screen=MainView&screenType=change
TWO WELLS COLLEGE PROFESSORS GRANTED TENURE AND PROMOTIONS
The Wells Board of Trustees recognized Sara Levy and Katie Waugh for their contributions to academic programs and the campus culture.
AURORA, N.Y.—Wells faculty members Sara Levy (education) and Katie Waugh (studio art) were granted tenure and promotions by the Wells College Board of Trustees earlier this month at its February meeting. Each will take the title of Associate Professor, effective this August, and will be granted tenure as of August 2019. "One of the hallmarks of Wells is the faculty's commitment to the teaching and mentoring of undergraduate students," said Jonathan Gibralter, president of Wells College. "Professor Levy and Professor Waugh have shown a remarkable dedication to our community, both inside and outside of the classroom, and I am pleased to see them recognized by the Board of Trustees for their efforts," he said. Sara Levy has been teaching at Wells since 2012. She has her bachelor's and master's degrees from Clark University and her Ph.D. from the University of Minnesota. Professor Levy's teaching philosophy and research are grounded in a commitment to social justice. Her classes bridge course content and students' lives by exploring the complicated intersections between historical understanding and lived experiences. "It is my obligation to acknowledge, respect and affirm the knowledge and experiences students bring with them to my classes," she said. "This is particularly important when working with college students, as their diverse views, opinions, and backgrounds can profoundly impact not only their own learning and growth, but also that of their classmates." Katie Waugh also came to Wells in 2012. She holds a bachelor's degree from Graceland University, a master's from Savannah College of Art and Design and a master of fine arts from the School of the Art Institute of Chicago. Waugh's multidisciplinary point of view encourages students to incorporate concepts from other disciplines into their work and develop the kind of research-based studio practice that fuels a great deal of contemporary art. "The process of developing a meaningful, engaging art practice requires self-motivation and critical thinking," said Waugh. "These skills benefit all art students, in any career they choose." Professor Waugh is also associate director of the String Room Gallery on campus, an exhibition space which features five exhibits each year showcasing a range of regional and national contemporary artists as well as student work. Learn more at
www.wells.edu/stringroomgallery
. ***
Wells College is a nationally recognized private coeducational liberal arts college located in Aurora, New York, on the eastern shore of Cayuga Lake. Wells, which is celebrating its 150th anniversary in 2018, has remained committed to providing a quality education to students through small, interactive classes in multiple disciplines and engaging coursework relevant to life in a changing world. Integrated hands-on learning opportunities, a connected community, and diverse educational opportunities give students the ability to take part in their own educations and prepare them to be active citizens and leaders.
www.wells.edu
Wells College. Arrive Curious ∴ Graduate Prepared.
Cayuga County Soil and Water Conservation
Rt 81 Information
The issue of the reconstruction of I-81 through the city of Syracuse is extremely important for the Village.  All of you are aware of the truck traffic through Aurora and the broken pipes, congestion, noise and safety issues that it causes.  The DOT is in the final stages of deciding whether to repair the elevated highway through Syracuse or to demolish it and replace it with a street-level boulevard.  The boulevard would be a regular city street, with 16 stoplights, connecting I-81 at the south of the city to I-81 at the north of the city.  The highway traffic itself would be routed east onto 481 and eventually connect again with I-81 on the north and with the Thruway.  Right now truck traffic comes through Aurora, or takes other routes to the west, instead of staying on 81, because these routes are 15 to 20 miles shorter than remaining on 81 and the Thruway to get to destinations west of Syracuse.  Taking these alternate routes from Homer to Thruway exit 42 (Geneva) is between 57 and 61 miles; taking the proposed 81 and 481 route is over 90 miles.  There is no doubt that traffic headed west from I-81 will find Aurora an attractive shortcut.  We cannot afford more long-haul trucks through our village.
---
NYSERDA AGRICULTURAL ENERGY AUDIT PROGRAM
Agriculture Energy Audit Program flyer
Agriculture Energy Audit Program Application
Emerald Ash Borer Information from Cornell Cooperative Extension
Town & Village Clerk EAB Letter
NYS -DEC Self Xport for Firewood Cert rev July 2012-1
  Cayuga County Conservation District Information
---