Welcome to Aurora, New York
Village of Aurora - 456 Main St Aurora, NY 13026
Join Village Officials for a Reading of the Declaration of Independence, Saturday July 4th at 11:00 am on the Porch of the Fargo
Upcoming Meetings - Open to the public 
Voice your opinion.  Items for the Board of Trustees meeting agenda should be submitted in writing to the village office seven days prior to the meeting.  Applications that require Community Preservation Panel/Planning Board review have to be in at least ten days prior for code/zoning consideration.  All meetings are held on Wednesdays at the Aurora Firehouse Meeting Room, 456 Main St., unless otherwise noted.
Community Preservation Panel meeting on July 1st at 7:00 pm.

Village Board of Trustees Special Meeting on Friday, July 3, 2015 at 4:00 pm.
---------------------------------------------------------------------------------------------------------------------
Final Adopted General Budget 2015-16
Final Adopted Water Budget 2015-16
Final Adopted Sewer Budget 2015-16
 Aurorafest Participant Entry Form
Are you considering putting in solar panels?  Download the above application and you may save money on your project.
Public Health Information
Help with the Feral Cat Population
Maureen Seaman works in Aurora and is concerned about the village's feral and roaming cat population. In an effort to help both the cats, primarily living around the Wells campus, and the village, she has contacted Dr. Paul Maza and his team at the Cornell University Veterinary School who use a technique called Trap, Neuter, and Release. The cats will be trapped overnight and as many cats as possible will be neutered and vaccinated the next day, and then released back into the area to live out their lives. This is the safest and most humane way of taking care of a feral cat population. The tentative date to set traps is July 31st with the clinic on August 1st…
Maureen is currently raising the funds to complete this project. Dr. Maza's clinic will come and run the TNR at a cost of $40 per cat for as many felines as they are able, regardless of how much we are able to raise. Any excess funds will be used to purchase food for the cats.
If you would like to donate, the link is http://www.gofundme.com/auroraferalcats. If you would like to volunteer to help please feel free to contact Maureen at maureenseaman@gmail.com.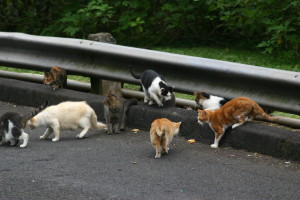 Fitness Trail
The beginning stages of an Aurora fitness trail is underway! Using the sidewalks, pocket parks, and the village park behind the Inn, you will soon be able to get a great workout of your own design right in the village.  With the help of Certified Personal Trainer Chris Brozon of Barn Warriors Cross Fit, we are designing workouts at each park in the village.  There is a station for cardio, upper body, core and legs as well as half mile marks on the sidewalks to know how far you are jogging, running, or walking.  Look for a kick-off event in the early fall!
  Click the link below for the Design Connect plan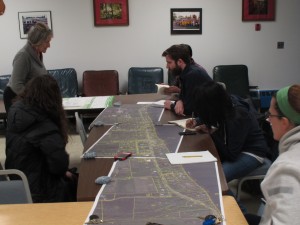 --------------------------------------------------------------------------------------------------------------------------